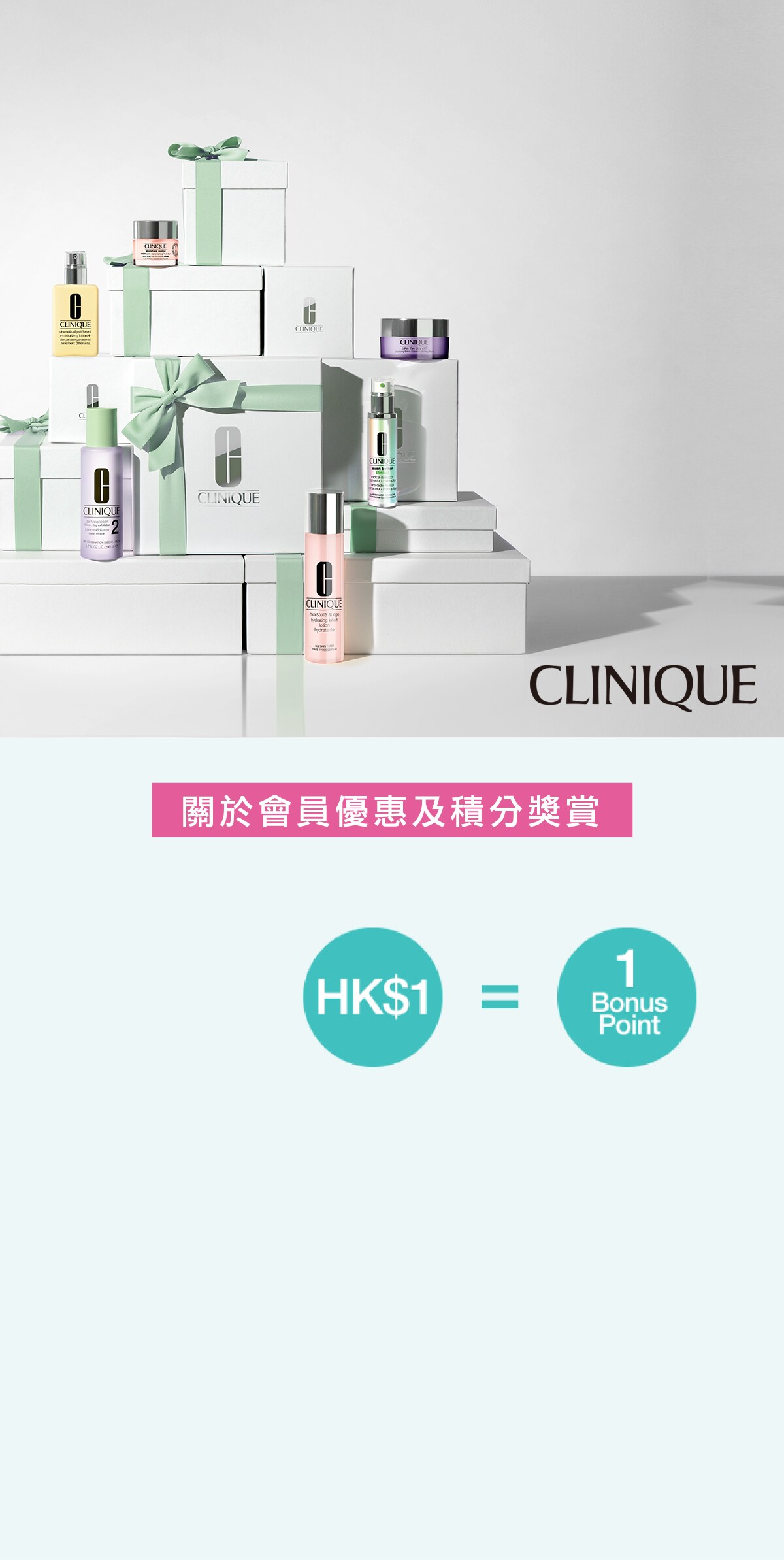 Club Clinique
VIP Program
會員優惠
2023 - 2024
About VIP Program and Rewards​
購物獎賞​
Rewards
每次親臨Clinique門市或官網,你均可獲取購物積分,每購物滿HK$1=1個積分,只需於2023年7月1日至2024年6月30日期間累積滿1,000分或以上,即可憑積分於各Clinique專門店/專櫃,即時換取指定的精彩禮品。詳情可參閱這小冊子。​

Upon purchase at Clinique stores or eShop, you will receive one bonus point with every spending of HK$1. Once you have accumulated up to 1,000 points during 1 July, 2023 to 30 Jun, 2024, you can redeem designated gifts at any Clinique store/counter. Please refer to the following pages.​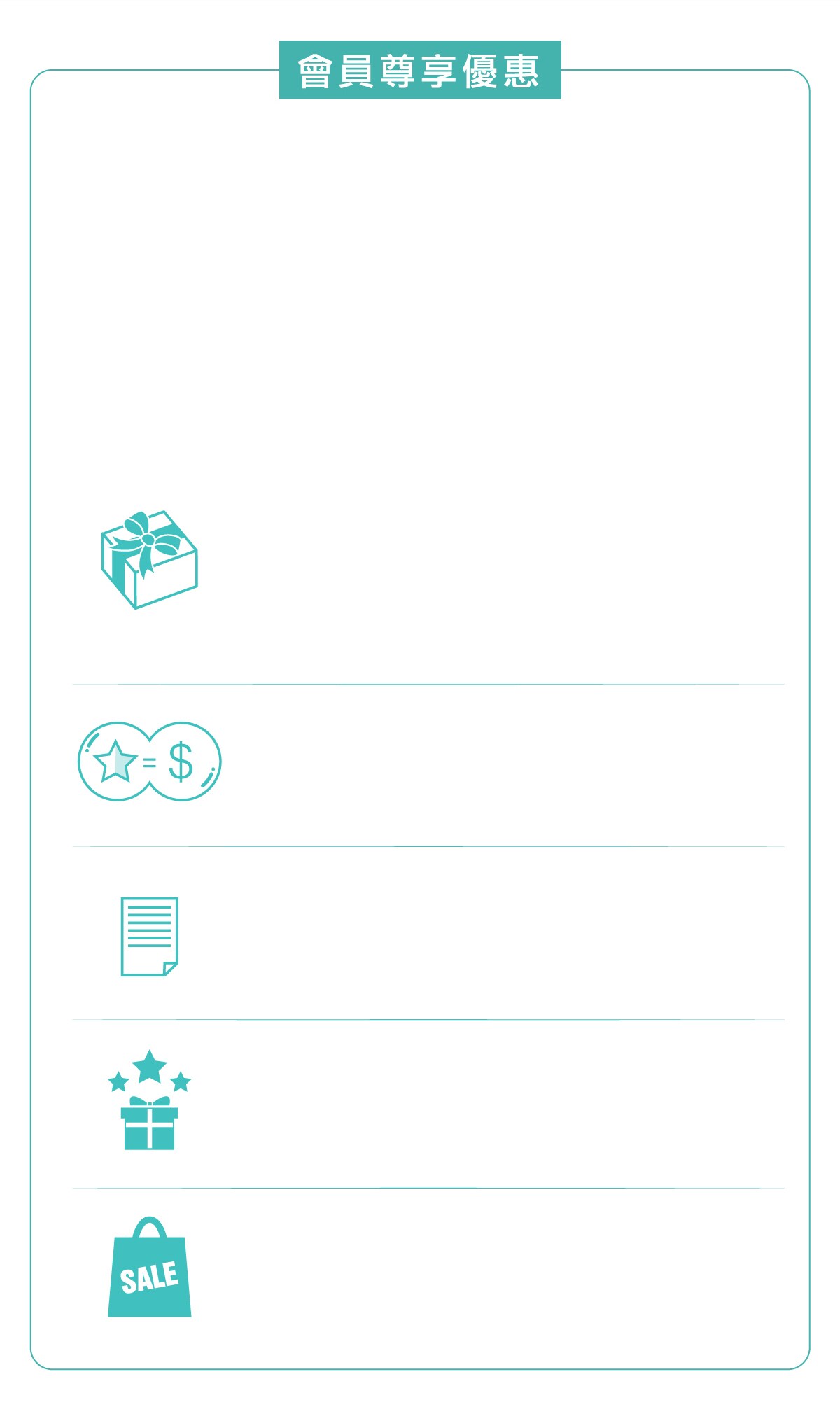 VIP Exclusive Privileges ​
歡迎成為尊貴的ClubClinique會員,我們定期為你送上新產品及推廣活動,讓你緊貼護膚美容潮流,打造明亮美肌。​

As our valued Club Clinique VIP, you will enjoy exclusive privileges and invitations to special pampering events. So get ready to experience and enjoy. And we look forward to serving you soon.
於生日月份首次購物滿HK$500可享​
HK$100折扣及額外獲贈500積分​
HK$100 discount upon HK$500 purchase and extra 500 bonus points upon first purchase in birthday month
官網及門市購物均可賺取積分
Omni Point Redemption
最新產品及優惠資訊
Latest updates on new products and promotions
驚喜獎賞​
Surprise Delights
尊享VIP購物日優惠​
Exclusive VIP Day Offer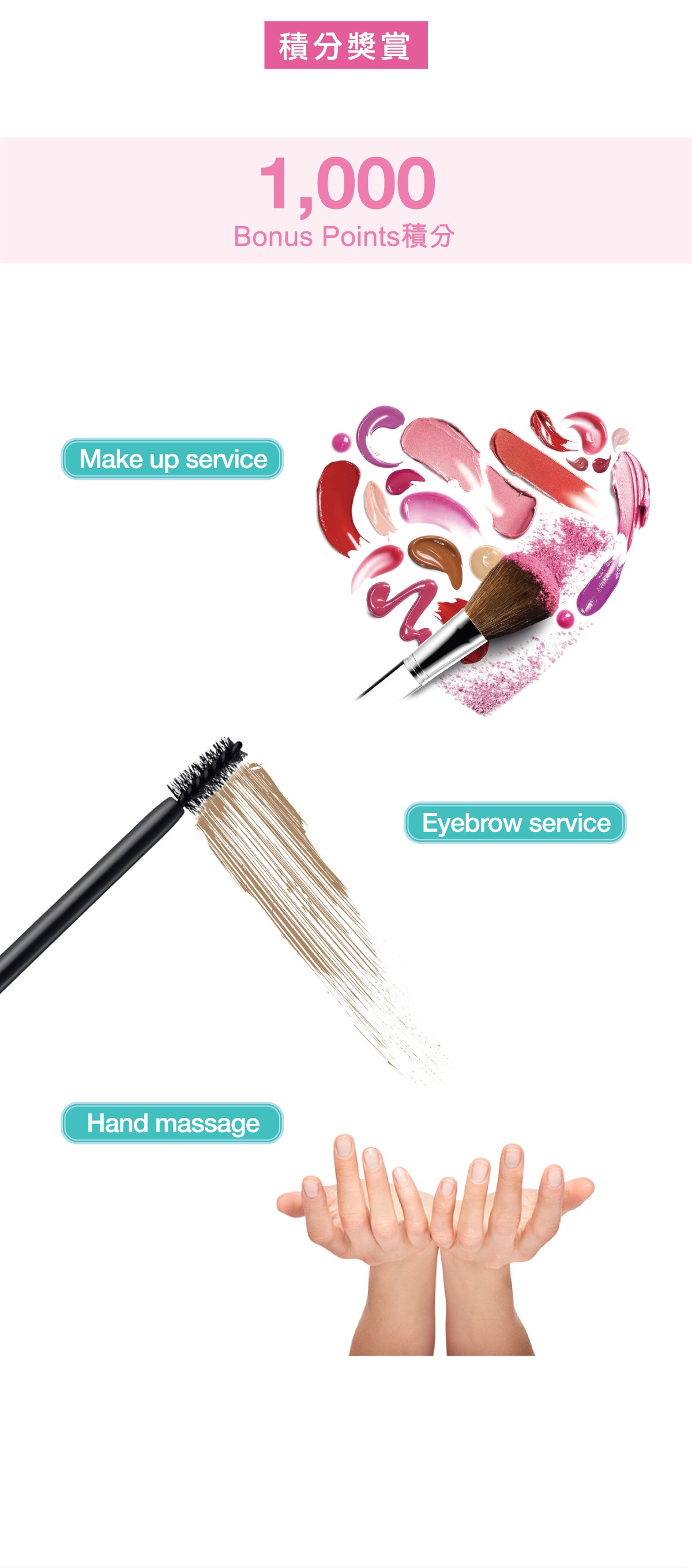 Bonus Point Rewards​
可兌換以下一項服務​
Redeem one of the below services​​
彩妝服務​​​
修眉服務​​​
手部按摩​
顧客可於服務後獲贈合適的產品試用裝兩件。
需先作預約。
Customers will receive 2 free samples after service. Advance booking is required. ​

舒柔潤手護甲霜75ml
Deep Comfort Hand and
Cuticle Cream 75ml​
價值worth $200​​​​
洗面液200ml(溫和配方)​
All About Clean Liquid
Facial Soap Mild 200ml
價值worth $220
96小時補濕凝珠眼部精華15ml​
Moisture Surge™ Eye 96-Hour
Hydro-Filler Concentrate 15ml​
價值worth $435​​​​
勻淨科研抗污染防曬隔離霜SPF 40/PA+++ 30ml
Even Better City Block Anti-Pollution
SPF40/PA+++ 30ml​
價值worth $355​​​​
男士洗面液200ml及
男士潔膚水200ml​
Clinique For Men Face Wash 200ml &
Exfoliating Tonic 200ml​
價值worth $435​​​​

100小時自我修護水嫩​
補濕啫喱50ml及 ​
水嫩補濕晚間面膜100ml
Moisture Surge™ 100-hour​
Auto Replenishing Hydrator 50ml &​
Moisture Surge Overnight Mask 100ml​
價值worth $795​
激光活膚緊緻精華30ml及​
激活激光修護眼霜15ml及
激活修護唇膏3.6g
Smart Clinical Repair Wrinkle Correction Serum 30ml ​
& Repairwear Laser Focus Wrinkle Correcting Eye Cream 15ml ​
& Repairwear Intensive Lip Treatment 3.6g​
價值worth $1,330
深層特效水嫩補濕精華95ml​
及100小時自我修護水嫩補濕啫喱50ml​
及 水嫩保濕精華水(升級版)200ml​
Moisture Surge™Hydrating supercharged concentrate 95ml ​
& 100Hr Auto-Replenishing Hydrator 50ml ​
& Hydro-Infused Lotion 200ml​
價值worth $1,420​​​​
升級版勻淨科研亮白淡斑雙效精華50ml​
及 勻淨科研抗污染防曬隔離霜SPF 40/PA+++ 30ml
Even Better Clinical™ Radical Dark Spot Corrector + Interrupter 50ml ​
& Even Better City Block Anti-Pollution SPF40/PA+++ 30ml​
價值worth $1,165
條款及細則 Terms & Conditions: •購物積分適用於Clinique官網、專門店或專櫃•所有禮品必需於專門店或專櫃換領​
•積分將累積至2024年6月30日,逾期無效•購物積分不可兌換現金,並不可轉讓別人​
•禮品數量有限,換完即止。若原有禮品被換罄,Clinique有機會將以其他價值相同之禮品取代
•Clinique將保留暫停及更改此推廣計劃之條款及細則的最終權利,並無須預先通知會員​
•對於任何有關此計劃之爭論,Clinique擁有最終決策權•換領禮品時,需出示身份証明以作核對。​
© Clinique Laboratories, llc. 版權所有​