She's a model. She's an entrepreneur. She's a DJ. If that's not enough, she's a wellness and fitness enthusiast. In fact, working out is what keeps Hannah Bronfman trailblazing into the future. Just check out her Instagram, Snapchat, or HBfit.com, and you'll get why she was selected to be part of the Clinique #FaceForward campaign. We caught up with Hannah at one of her favorite New York City spots: Ashley DeLeon Pilates. She demonstrated some very impressive moves and gave us a peek into her ambitious mind and easy beauty routine. 
Hannah on why she loves exercise…
"When I get in a proper sweat session, I can accomplish more in my day. My mind is very clear, and I'm ready to approach certain businesses and scenarios in a focused way. Scheduling can be crazy, but I think it's really important to take an hour for yourself, or even just 15 minutes. And it doesn't even matter what it is—I try everything. I do boxing, strength training, yoga, Pilates…I like to surprise my body. Ultimately, that's what I think gives you the best results, both mentally and physically."
"My skin looks great when I'm eating well and hydrating myself."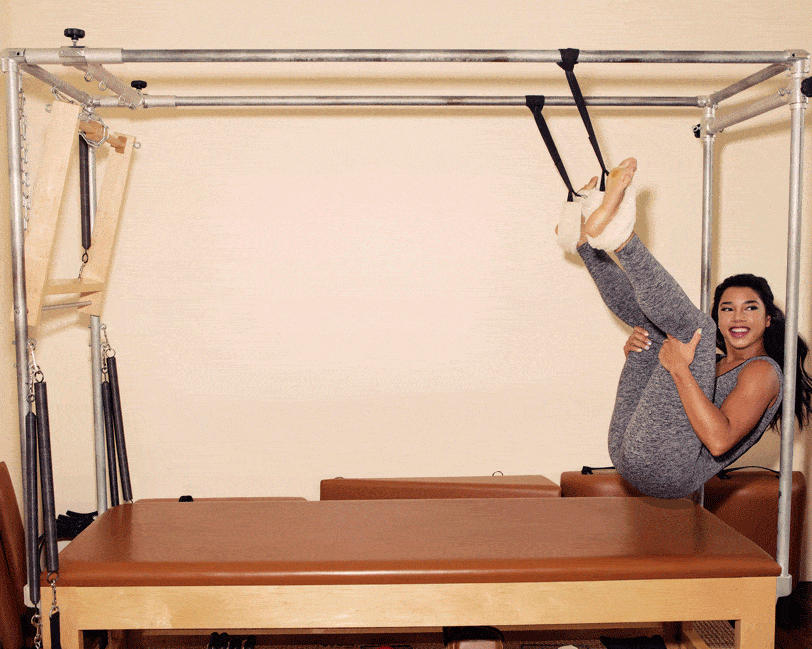 How she fuels…
"I always have a protein shake after a workout. A lot of people don't replenish their nutrients properly after exercising, and therefore they don't see the results that they want. It's a whole connection. I make sure to eat enough protein, healthy fats, and nutrient-dense meals, and I have snacks that aren't too processed and don't have a lot of sugar. It's hard to find snacks on the market that don't have too many hidden preservatives and additives, and the sugar is crazy. Everything comes out in your skin. My skin looks great when I'm eating well and hydrating myself."
Her post-workout beauty routine…
"I usually try to put my hair in a slick pony—that way it looks like it was intentional as opposed to just being sweaty. I rinse my face with cold water and use a little Clinique Liquid Facial Soap. Then, I use a half pump of the Clinique Dramatically Different Moisturizing Gel. It seals in the moisture and leaves my skin with a nice post-workout glow. I like to keep my makeup simple—a few swipes of Clinique Chubby Stick Baby Tint on my lips goes a long way—I love the Budding Blossom shade."