Foundation—many women have a love/hate
relationship with it. Love the potential for
creating the appearance of even-toned, blemish-
free, flawless skin. Hate that it can be so tricky to
actually look like you aren't wearing anything at
all. That's why you need a multi-pronged strategy
to achieve natural-looking foundation.
First, you have to find the perfect foundation
match. The new Superbalanced Silk Makeup
Broad Spectrum SPF 15 feels weightless on skin,
yet provides long-wearing medium coverage. The
best part: it helps control oil-prone areas, while
hydrating dry patches—genius! You can discover
more formulas that are best for your skin
type in our counters.
Next, you have to know how to apply it like a pro.
We've got you covered. Here are all the pro
foundation application tips to achieve
complexion perfection.
1. Start with a clean canvas.
Your foundation will only look as good as the
skin underneath, so maintaining a consistent
skin care routine is key. Right before applying
foundation, it's important to cleanse your skin to
help prevent clogged pores and remove any dirt
that may be dulling your natural radiance. Next,
gently exfoliate your skin to sweep away any dry,
dead skin cells that may cause foundation to go
on unevenly or look flaky. Finally, apply
moisturizer; foundation sinks best into hydrated
skin. (Think of how a wet sponge soaks up water
more readily than a dry sponge.) Check off all
these boxes with the 3-Step Skin Care System.
Here's how to customize one for you.
2. Take the time to prime.
Ok, a primer may add an additional step to your
makeup routine, but it will go a long way to
ensure that your foundation looks flawless
because it turns your skin into a perfectly smooth
surface. If you have skin concerns like redness,
dullness or uneven pigmentation, a color
correcting primer helps even out your tone for a
shade that ultimately looks truer.
3. Be conservative.
Always start by applying just a little bit of 
foundation, and then add more until you have 
just the right amount of coverage. The goal is to 
only apply foundation where you need it, so that 
your skin still looks like skin. And let's face it: 
there's nothing worse than ending up with a face 
caked in foundation. (Hint: If you have to apply 
foundation all over your face for it to look even, 
then you're using the wrong shade.)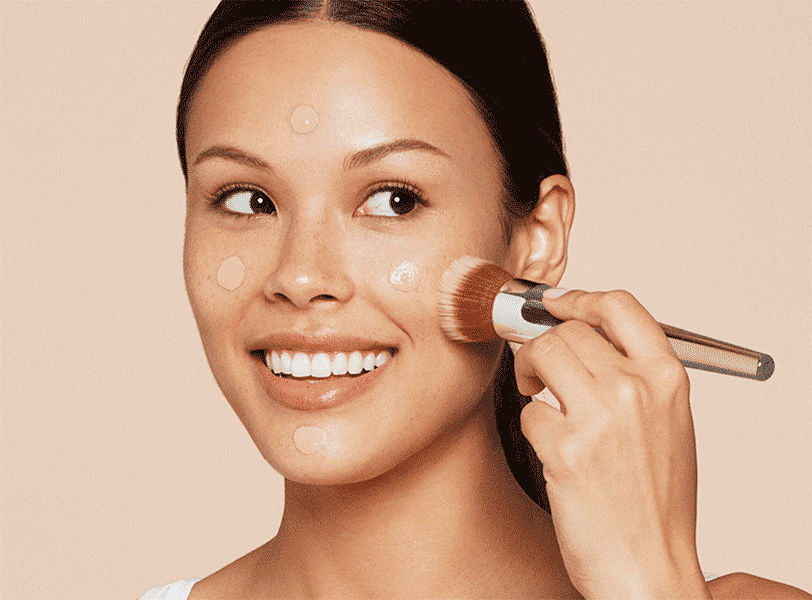 4. Work from the inside out.
Concentrate the foundation in the center of your
face where redness and blemishes tend to be
more problematic. Apply just a dab of foundation
on each side of your nose, and in the center of
your forehead and chin, then blend outward.
"After it is all blended in, pinpoint any other
areas of the face where blemishes are visible and
apply an additional light layer of foundation in
those specific areas," advises Clinique Colour Pro
Florrie White.
5. Stipple, don't rub.
Whether you're using a foundation brush
(synthetic bristles are best) or your fingertips,
apply foundation in a stippling motion, which
means gently tapping it into your skin. Avoid any
wiping or rubbing motions because that will only
push the foundation around and cause streaks. "I
like to press foundation gently into the skin. The
warmth of the fingertips helps to make the skin
and foundation melt together and appear as
one," says Florrie. Another option: The densely
packed bristles of the Foundation Buff Brush
gently buffs foundation into skin and can be used
with liquid, powder, cream or stick formulas.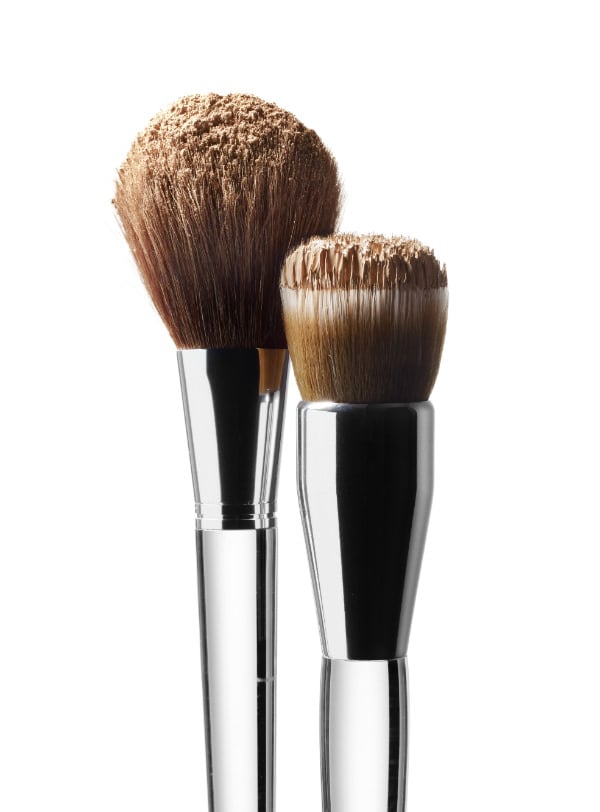 6. Don't forget your ears!
Often overlooked, your ears are a part of your
face, too. If you're prone to red lobes, lightly
sweep your foundation brush over them so that
they blend in with the rest of your face.
7. Set it and forget it.
Most people associate powder with a matte,
cakey look, but dusting a silky loose setting
powder, like Blended Loose Powder, over your
foundation will ensure it won't budge without
dulling its finish. Dip a large, fluffy powder brush
into the powder, then tap or shake your brush
once to remove any excess—you should be able to
see the bristles through the powder. Lightly
sweep it across your face, using a heavier hand
on areas that tend to get shiny, like your T-zone,
chin and undereyes, if necessary.
8. Stack concealer only where needed.
If there are any areas where foundation simply
wasn't enough, such as dark undereye circles, red
spots or blemishes, dab a concealer over them,
then tap it into your skin to blend seamlessly
without rubbing your foundation away. A good
one: Airbrush Concealer has optical diffusers and
skin-brightening benefits that work to highlight
face contours.
Portraits: Christine Hahn | Still Life: Yasu +
Junko | Words: Katie Livanos