Like many of us, Murad and Nataly Osmann love
to travel. But thanks to one spontaneous
photograph on their first trip together, traveling
the world is now their full-time job, snapping,
sharing, and posting about their journeys to 6
million followers worldwide.
Here's what happened: They were in Barcelona, a
city Murad loved and wanted to show Nataly. Naturally,
being a photographer, he would take
so many pictures of her, that she got
embarrassed, grabbed his hand, and turned away
to move him along. He took a snap of that grasp,
and #FollowMeTo was born. "That first picture
was an accident. We loved the concept and it
turned into our favorite hobby for many years.
It's hard to believe that so many projects came
out of one romantic shot," says Murad. Now
they've launched a website, Follow Me To Travel,
which shares their unrivaled knowledge about
planning a dream trip, and a television series and
YouTube channel about their journeys to the
edges of the world are in the works.
We caught up with the Insta-famous
globetrotters in New York City at the Gansevoort
Hotel in the meatpacking district. We talked
travel tips, packing strategies and, of course,
about Nataly's on-the-go beauty routine.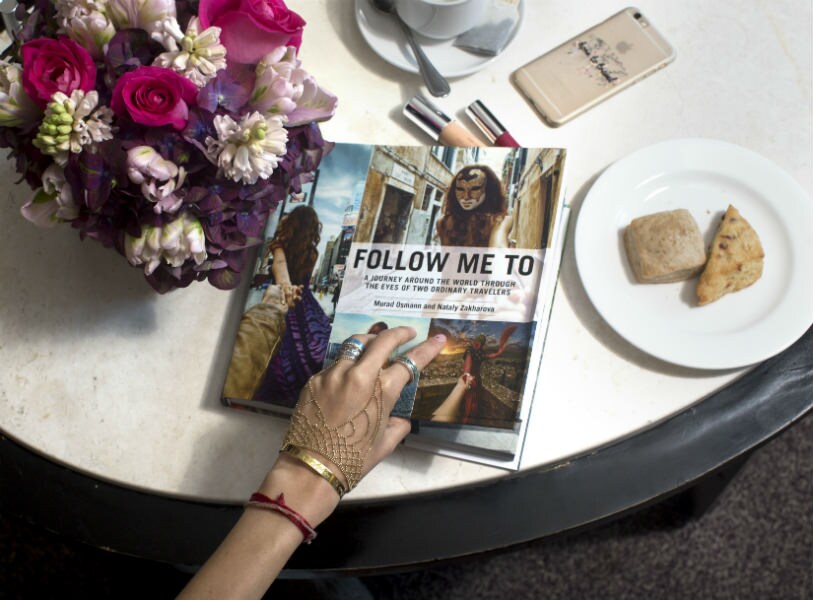 Murad on the success of #FollowMeTo…
"We didn't expect such popularity. It was just a
project that inspired us to travel more and share
the world with others. I think our followers are
attracted to the #FollowMeTo philosophy—
beauty, love, amazing views, different cultures.
We always stay sincere and honest with the
audience and get huge feedback."
Murad on finding the most breathtaking shot…
"It really needs time! We always say, that the
most magnificent things in any country are the
people who live there. We ask local people for
advice, as we plan a detailed route before a
journey and surf the Internet for interesting
locations. We have a lot of adventures in the
pursuit of a good picture—we climb monuments,
rooftops, and forbidden places, wake up at 5 a.m.
to catch the sunrise. You never know where your
best picture will be taken!"
Murad on the most breathtaking place he has photographed…
"My favorite shot is of the Taj Mahal. Actually, all
of India is magical. Everything there is so
different from our culture, but at the same time
you can see how much people have in common—
they are kind, helpful, open-minded. India is full
of contrasts, colors, legends, and deep traditions.
That's why so many #FollowMeTo photos were
taken there, and why we shot our first video
there."
Murad, on the most challenging photo they've ever taken… 
"I will never forget our helicopter trip above the 
Hollywood sign in Los Angeles. We asked the 
pilot to take off the doors and we didn't have any 
insurance! We had only 3 minutes to take the 
picture. Nataly's left foot was in the air, and half 
of my body as well. There was a strong wind, the 
noise of engines was very loud, but the view was 
great. It was crazy, but totally worth it!"
Nataly on packing and her inspiring #FollowMeTo dresses…
"Only local designers can truly reflect the culture 
and the history of their country, but I will mix it 
with modern trends. A dress on #FollowMeTo is 
not just a dress. It's one of the ways to highlight 
the culture and beauty of wherever we are."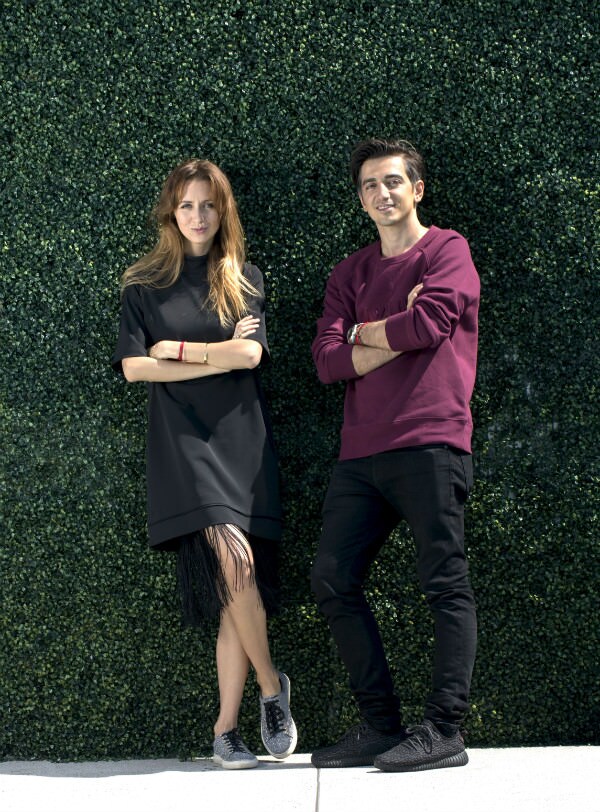 Nataly on packing and her fashion must-haves…
"It's my never-ending argument with Murad. He 
says that I take too much clothing, and I say, that 
he takes too much equipment. But, joking aside, 
there are usually only two suitcases for the two of 
us. For me, it's as important to feel comfortable, 
as it is to look elegant and feminine. I love casual 
and urban boho styles, especially denim, overalls, 
oversize sweaters, and silk camisole dresses with 
lace. To take an outfit from day to night, I may 
add a bag with feathers or a vintage clutch, a 
huge cocktail ring or statement oriental 
earrings."
Nataly on maintaining beautiful skin, despite the hazards of traveling…
"We almost live on airplanes, so I have an army
of beauty secrets, that help me to survive long
haul flights and changing climates. I even
launched a beauty blog to share my favorite tips.
For example, removing your makeup before
takeoff because a high altitude is already stressful
for your skin, it's better to keep it clean andhttp
moisturized in the plane. I also love facial masks,
eye patches, eucalyptus lip balm, and light facial sprays."
Nataly on her makeup must-haves for
travel…
"A lot of shimmery lipsticks and a good concealer
to hide dark circles under my eyes! And, of
course, I have my favorites from Clinique:
Chubby Stick Cheek Colour Balm and
 Chubby in the Nude Foundation Stick are so easy for travel because they are cream sticks that won't leak or crush, and the textures are very easy to blend."
Nataly on beauty secrets she's learned
along her travels…
"Argon oil in Morocco, bathhouse and herbal
recipes in Siberia, rice water in China, avocado
oil and cane sugar peelings in Brazil…but a happy
smile, good sleep, and endless love remain to be
the best beauty secrets in the whole universe!"
Nataly and Murad on working and
traveling the world together…
"We live the most beautiful moments together,
share our feelings and impressions, support each
other, and nothing can tear us apart."
Photos: Ben Ritter | Words: Rachel Hayes