Cloë Lane is sweetness and light personified, so it makes perfect sense that she created a booming business made up of those two ingredients. Bon Puf is Cloë's cotton candy catering business, where she "puts a modern spin on a classic confection." Via her super cute retro carts, Cloë whips up artisanal cotton candy to partygoers in the LA area, delighting everyone—kids and adults—with surprising flavors such as lime with toasted coconut, ginger with black sesame seeds, mango chili, rose, and salted caramel. Of course, she uses organic sugar too. (FYI, one Bon Puf serving only uses a tablespoon of sugar, which is about 40 calories, so enjoying this organic sweet treat comes with zero guilt and 100% sweet tooth satisfaction—now that's a party.)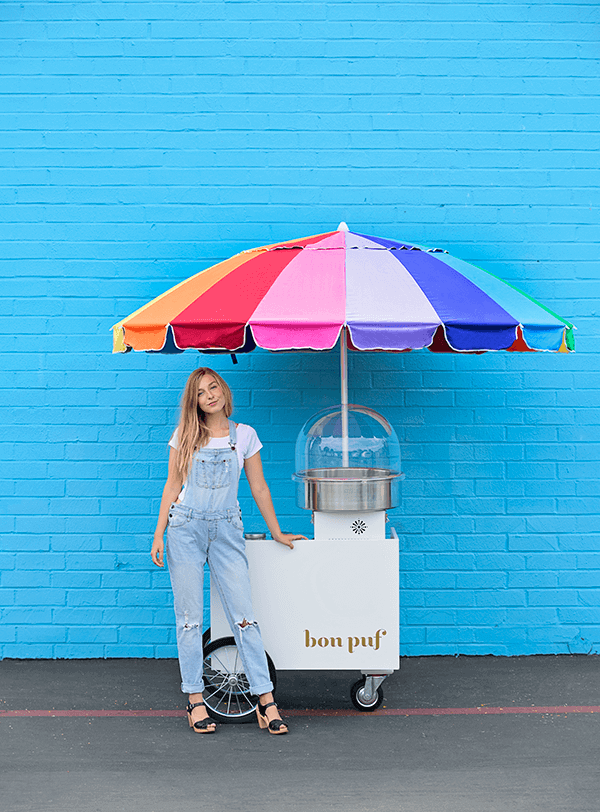 The idea for Bon Puf came to Cloë her senior year of high school at the age of 18, just three years ago. Capturing the nostalgia of her childhood spent in Los Angeles on the Santa Monica Pier and at Dodger Stadium, where cotton candy was her treat of choice, was at the heart of the concept. Cloë debuted her dream-turned-reality at the 2013 Unique LA Summer Market, and Bon Puf has been on fire ever since. Now she spins her sweet magic at weddings, birthday bashes and hot L.A. parties and events—she recently collaborated with Lauren Conrad to craft Champagne Cotton Candy Cocktails for her blog. No surprise that her Instagram feed is a social media smoke signal of her success.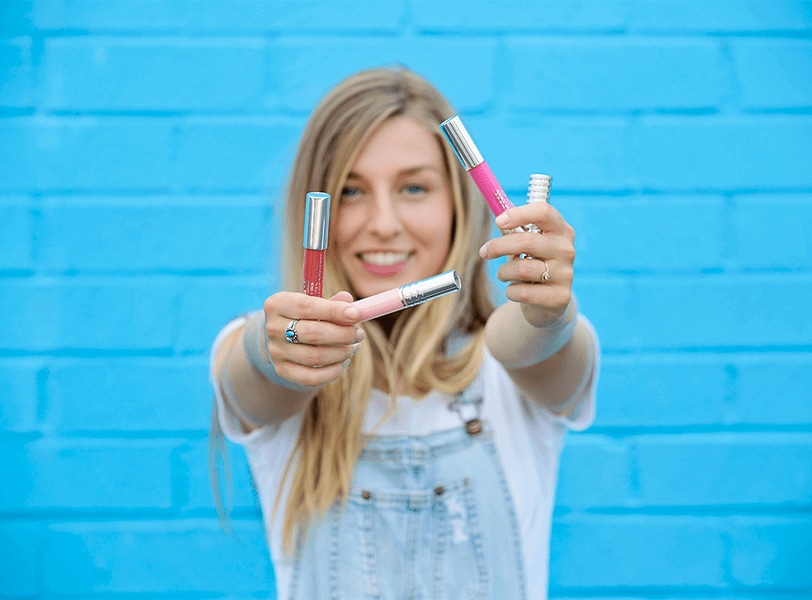 We asked Cloë about her beauty routine, which she described as "very simple and natural." Being a California girl, it seems appropriate that she would favor a sun kissed look emphasized by a pop of sweet lip color. Her favorites: Clinique Chubby Stick Moisturizing Lip Colour Balm in the flavors, we mean colors, Woppin' Watermelon and Heftiest Hibiscus. Her one other beauty must-have is coconut oil, for tricks passed down by her mother. Cloë uses it for everything from makeup remover to moisturizer.
When she's not concocting new flavors and working events, Cloë can be found exploring the Pacific coast with her fiancé, a music business major at USC. They're planning to tie the knot this spring in Big Sur.
The world is definitely sweeter with Cloë and Bon Puf in it, and we can't wait to see what she will come up with next—perhaps a wedding cake flavor?
Photography: Kimberly Genevieve | Words: Mary and Lucy Firestone | Hair & Makeup: Tamah Krinsky